Tuesday January 1st 2019, the day I and probably many others, have woken up with a clear head and a clean slate ready to start planning out the next 365 days.
But before we go into 2019, lets have a look back at what I got up-to in the last 12 months!
2018 was a great year for me and I'm so thankful of what I was able to do and achieve this year. This included some amazing purchases (which we'll look at in this post), home renovations, travelling to the most incredible places and meeting some amazing people. The majority of which was done alone after I said goodbye to my boyfriend for 6 months of the year while he upped and moved to Australia for work. This was the only downside to the year, as you can imagine a long distance relationship would be tough at most times but adding an 11 hour time difference between us and a hectic work schedule for him, we'd probably only speak once a day which for me was extremely hard.
There were a few positive things come of him going away, aside from him having this amazing opportunity to work down under, I learned how to cook, to strip wallpaper, paint properly, navigate my way through London and to the other side of the world but most importantly I was able to spend time working on me.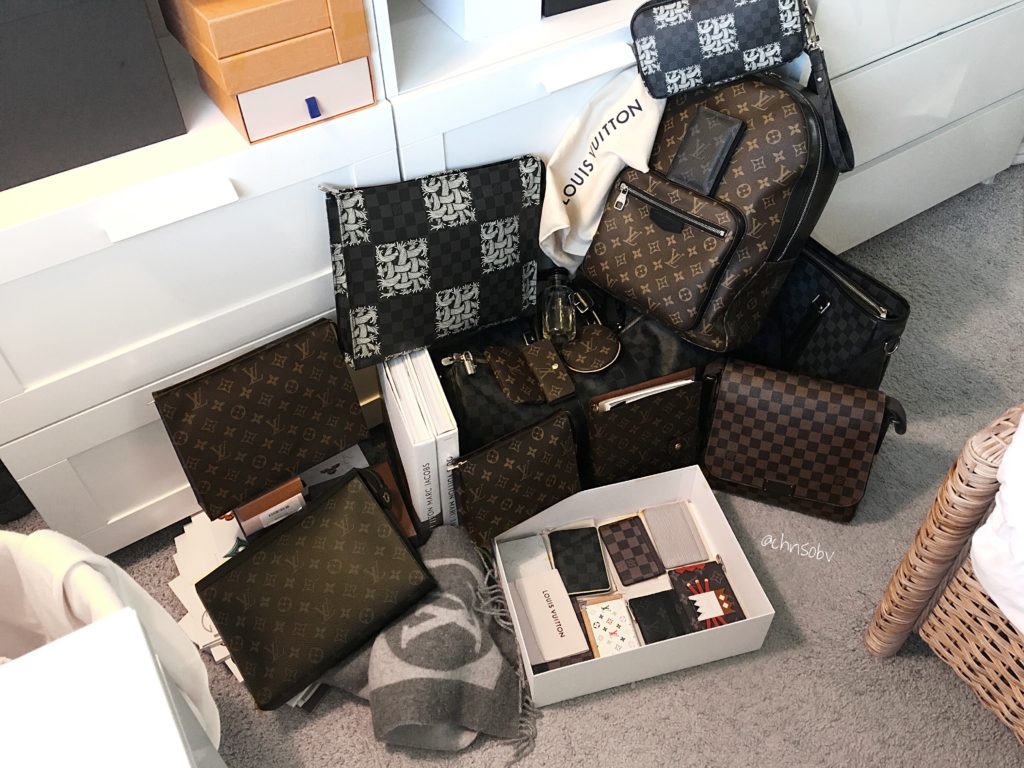 If you don't already know, I have a love for Louis Vuitton, so I decided in January to film a Youtube video of my entire Louis Vuitton collection for me to see how my collection changes over the year. By that, I mean what I add to the collection and what leaves.
This was so much film to film, it really got me thinking of what I had and how much I need to use each piece.
I'll soon have a blog post on my entire collection, once it's live it will be linked here.
In January, my Keepall collection grew by 1 and was so happy to welcome my vintage Keepall 45 Bando in Monogram. I bought this from an amazing company in Ireland called Designer Exchange, you can visit their website below. It was an incredible find, and to have one manufactured in 1990 was even better!
Designer Exchange Ireland Website
Designer Exchange Ireland Facebook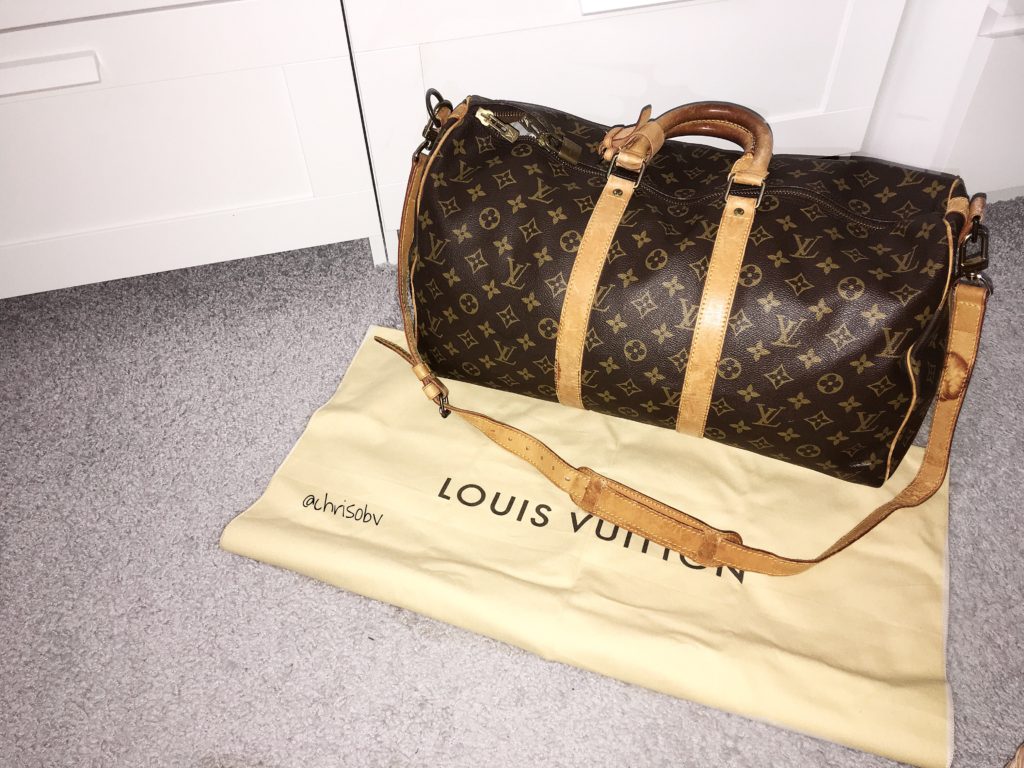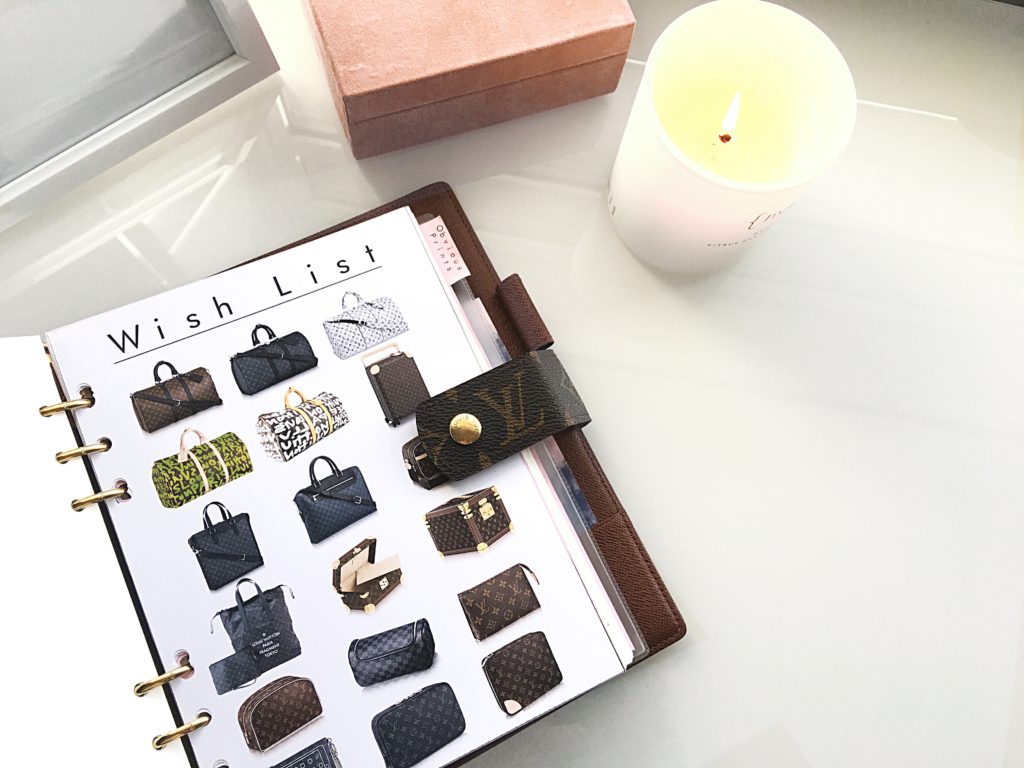 In February I decided to start a wish-list, not one I keep in the back of my head but a physical one that was kept inside my agenda. I'm very much a visual person and if I can see something I want, it keeps me motivated to try and check it off my wish list.
I'll be creating a post on my current wish list, once it's live you can have a read here.
My favourite flowers are tulips, particularly white and pink ones. They represent the start of Spring and this March was when I bought my first tulips. 
March was also when Paul left to start his adventure in Australia.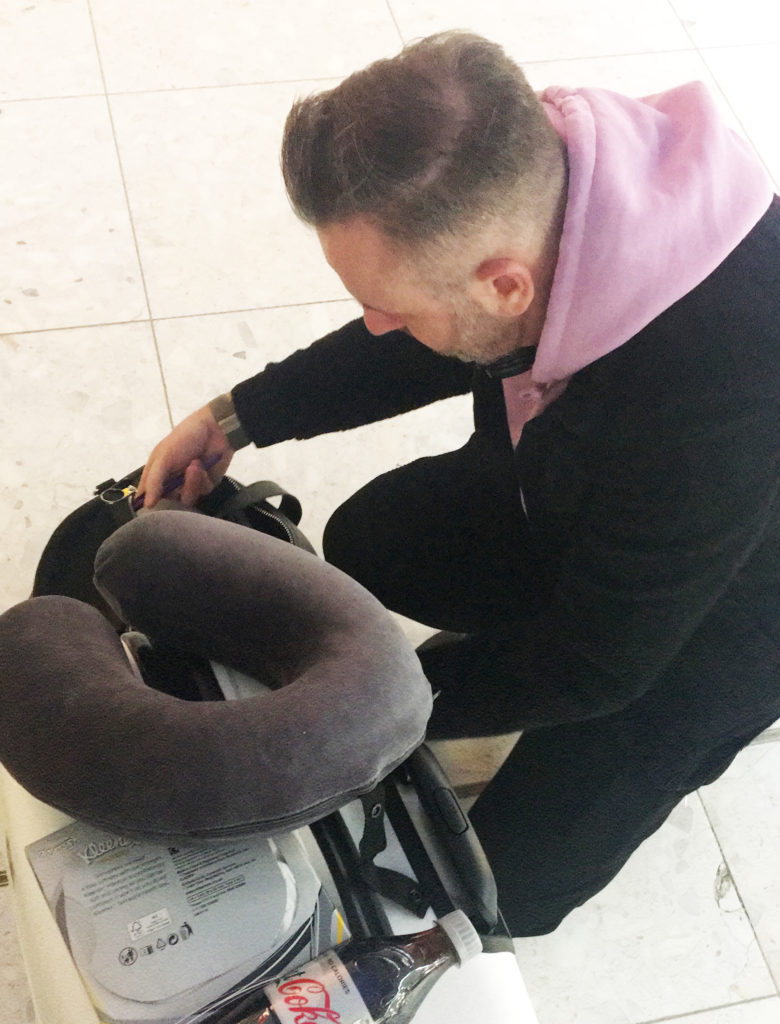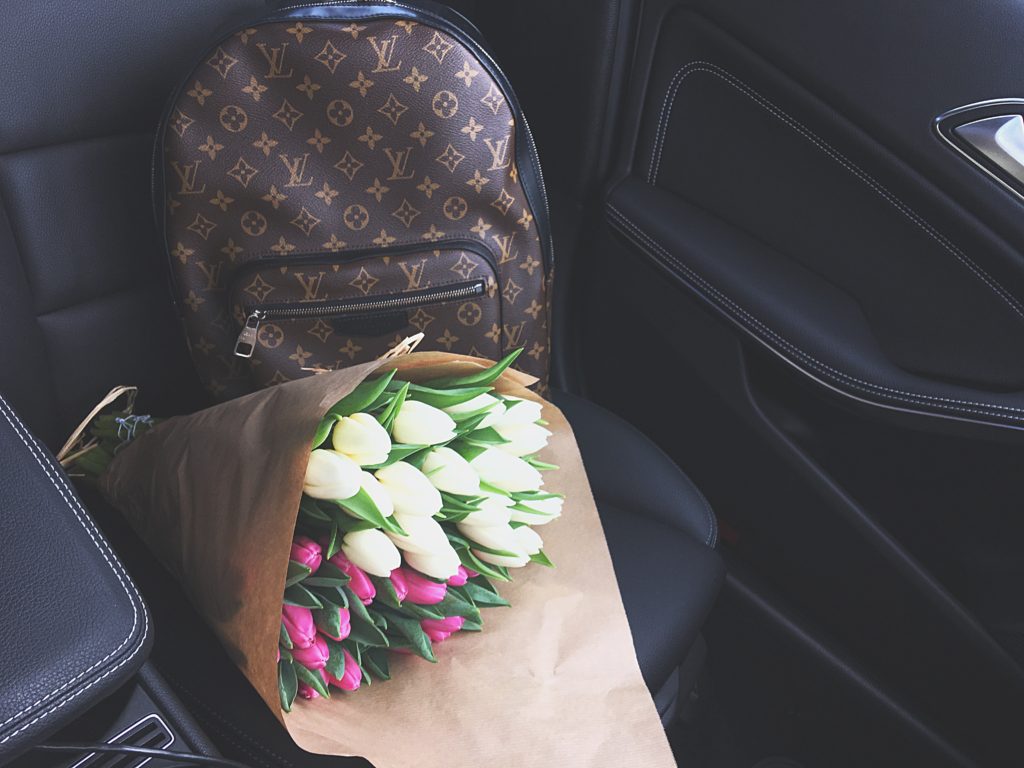 I also picked up a new Louis Vuitton passport holder from Designer Exchange. This model has an older design compared to the current layout.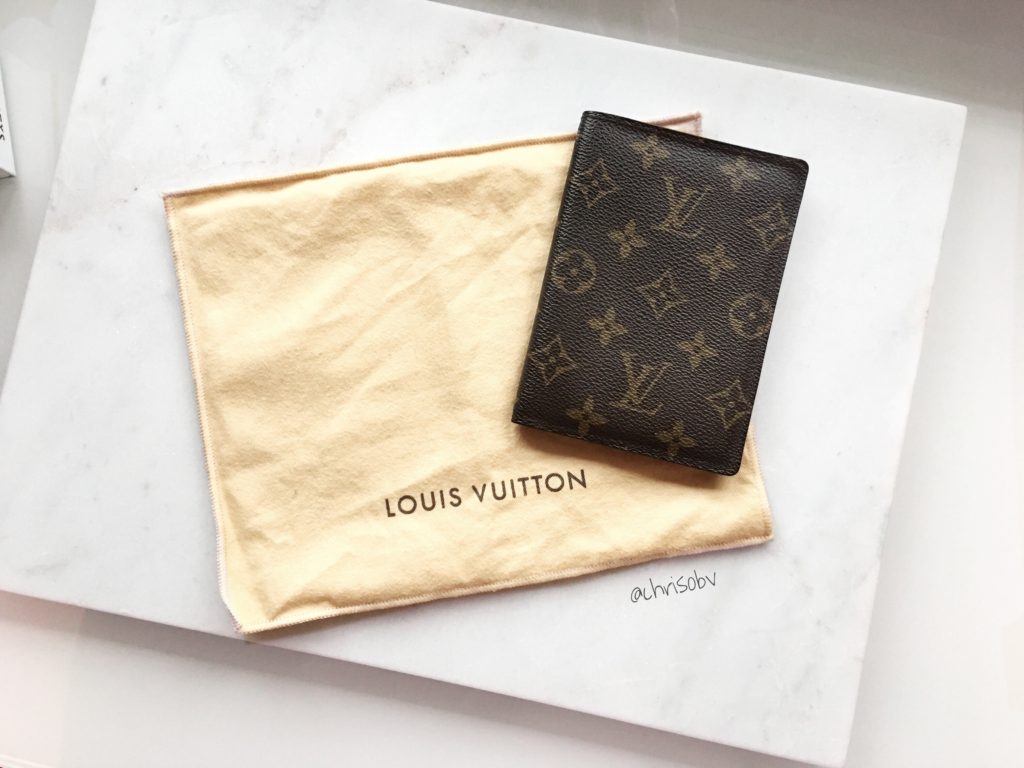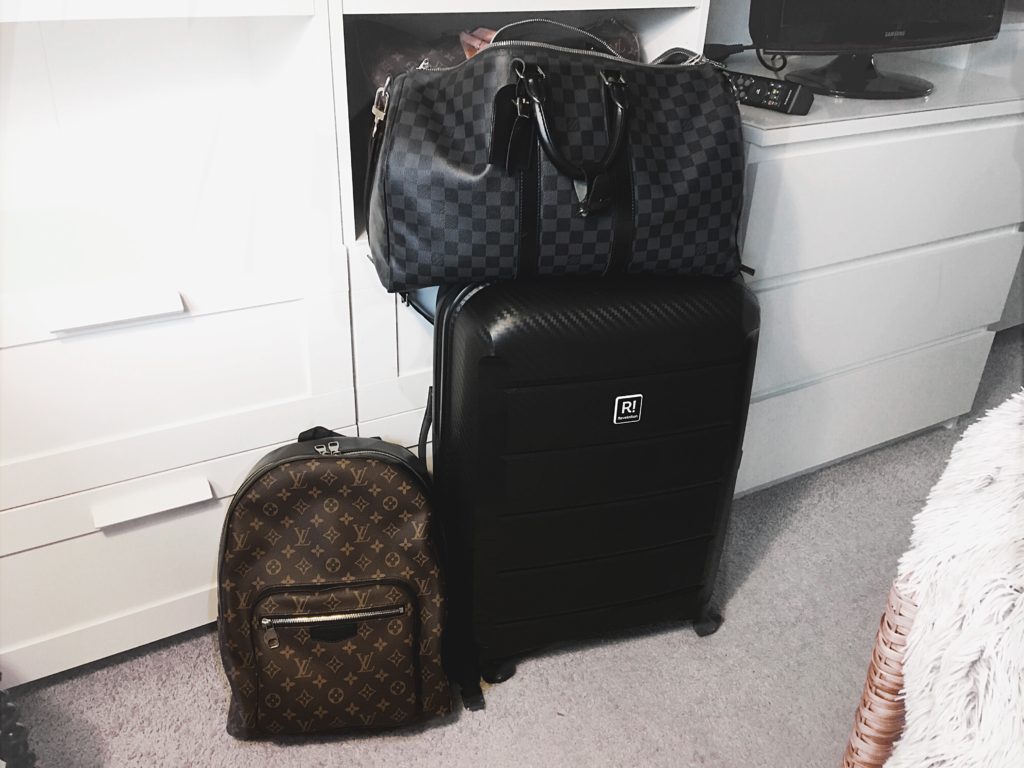 This was an amazing month. In April, I headed down to London to meet some special people from the states. I met up with MJ (@stanleydragonjr), Sam (@snapehbp) and Mickey (@micks.crawford) for a few days of shopping before hopping over to Paris. When we arrived, we headed straight to Chanel and we met Ru (@ohsnapruru) who from that moment became our Paris tour guide. After the amazing 12 hour Paris trip, we then went out for dinner with Nettie (@nettiesworld4u) and Sherrie!
During my trip, I shopped ALOT. The first item I bought was actually from MJ. A few months back, Louis Vuitton launched a collection in Japan and it was called the Fragment Collection. MJ bought 2 of the iPad Pouches and this was exactly what I was looking for. 
The second item was bought in Harrods as is a notebook from Louis Vuitton. I loved the dog on the front this was what sold it for me! Unfortunately the notebook isn't refillable, but it will make a lovely display item when I'm finished with it.
The following day, I purchased the most expensive aftershave EVER. To this day, I blame the purchase on the sales girl at Tom Ford, she was great and so was the fragrance, it was Fucking Fabulous (get it). This fragrance needs no explanation. Its incredible. In the same day, I also managed to pick up a new pocket organiser from the new Damier Coastline collection, which is very similar to Azur but a little less cream and more white. 
Shopping in Paris was a dream come true for me. We visited so many stores but for me, all of my purchases came from the new Louis Vuitton store on the Place Vendome. This store was STUNNING. In here, I picked up the Oydessy PM, the Monogram Split bag charm and a Paris City guide, as a souvenir. The amazing thing about shopping in Paris, It was cheaper than buying in the UK, saving me £126!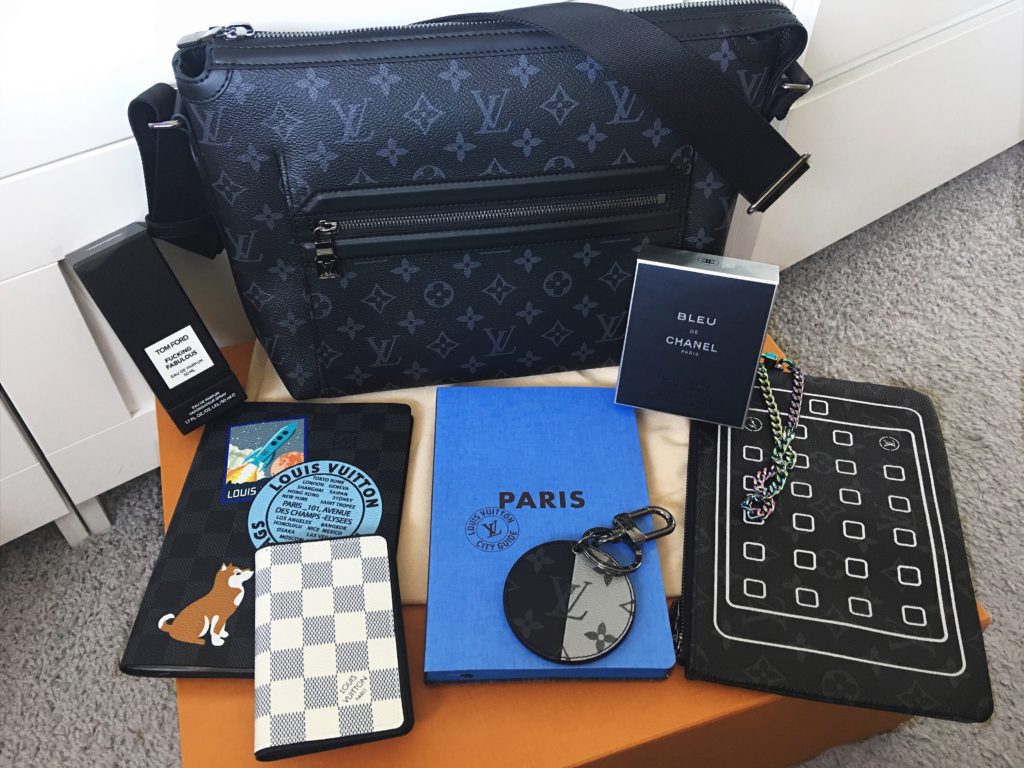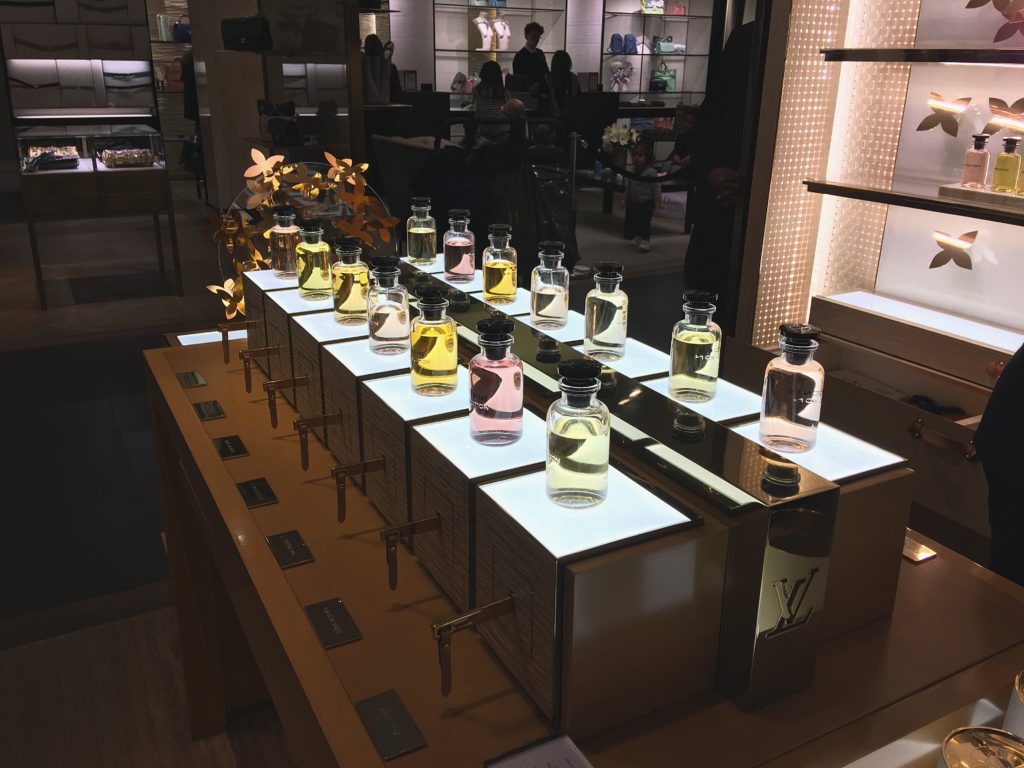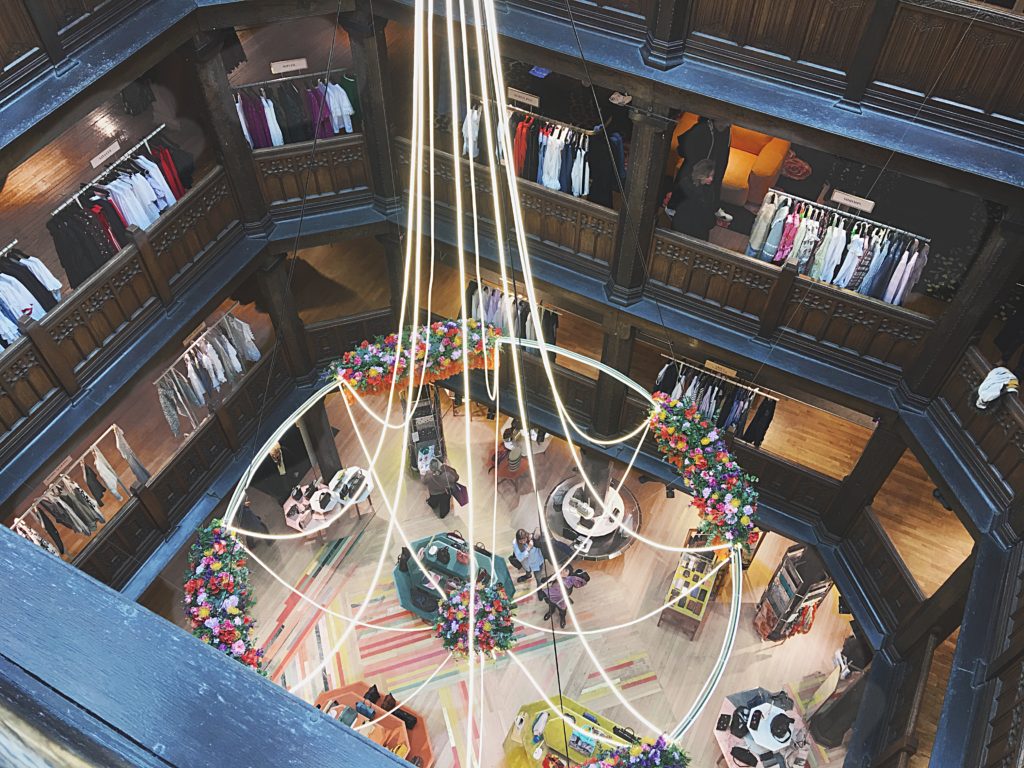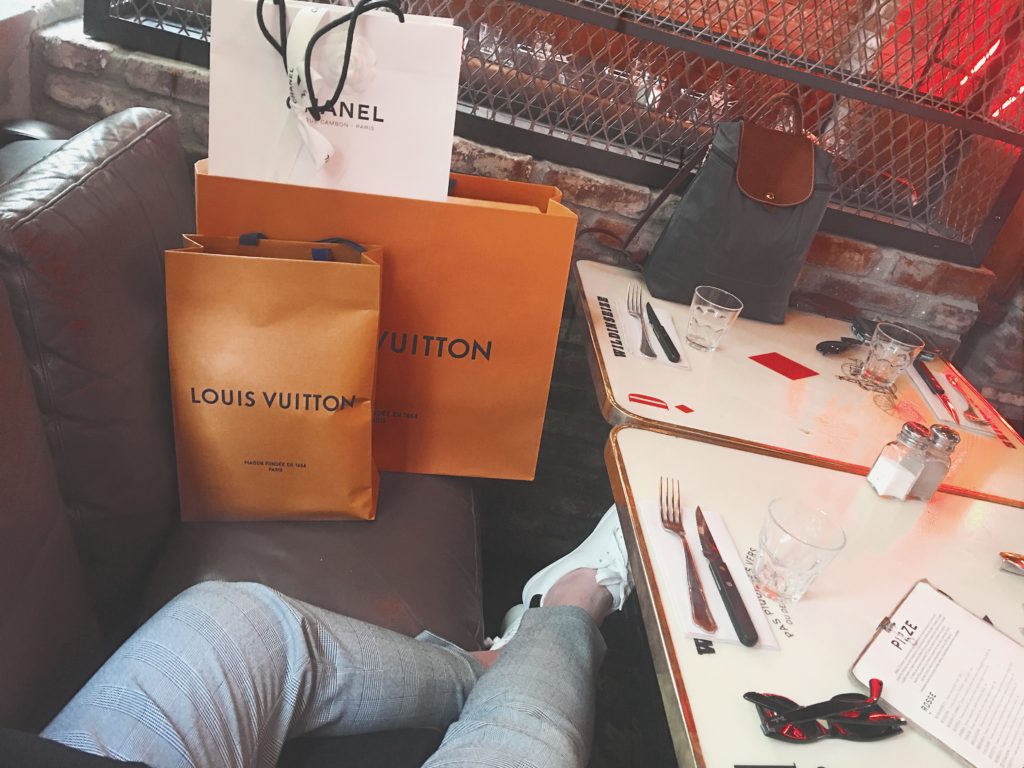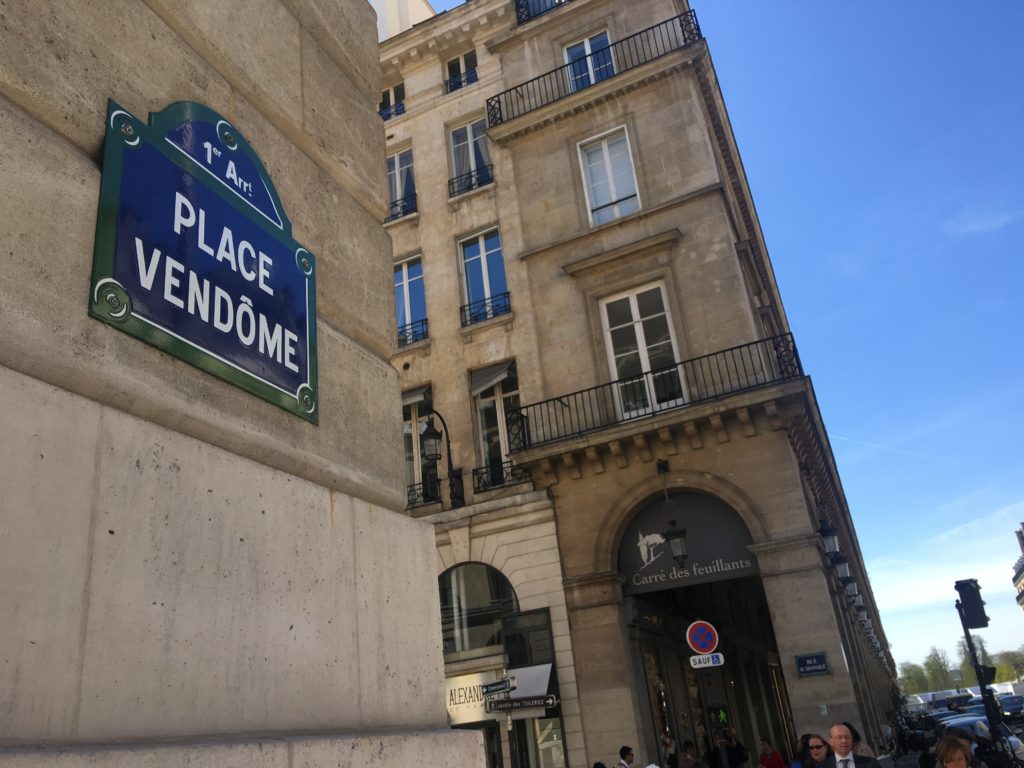 There will be a post coming all about my trip with a lot more pictures. You can read that here when it's live.
In the UK, April is also home to the Grand National. This is a huge horse racing event that takes place in Liverpool. My grandad was a huge lover of the sport and since he passed away, every year my family and I honour him and play the grand national as he would have done, by choosing the most ridiculous name and shirt colour of the jockey. The horses ability was never taken in to account. This year, I placed a bet on 'Tiger Roll', purely because I LOVE tiger bread, and to my surprise, he WON! To celebrate, I purchased this gorgeous Epi Cosmetic case from Louis Vuitton and Fendi bug bag charm.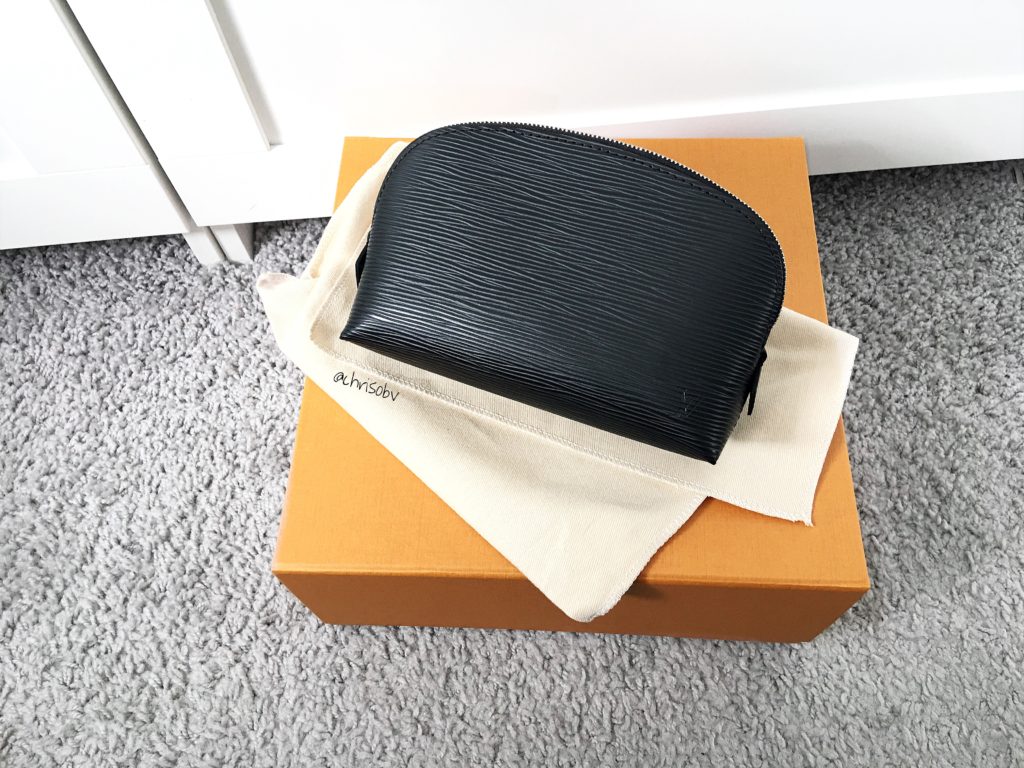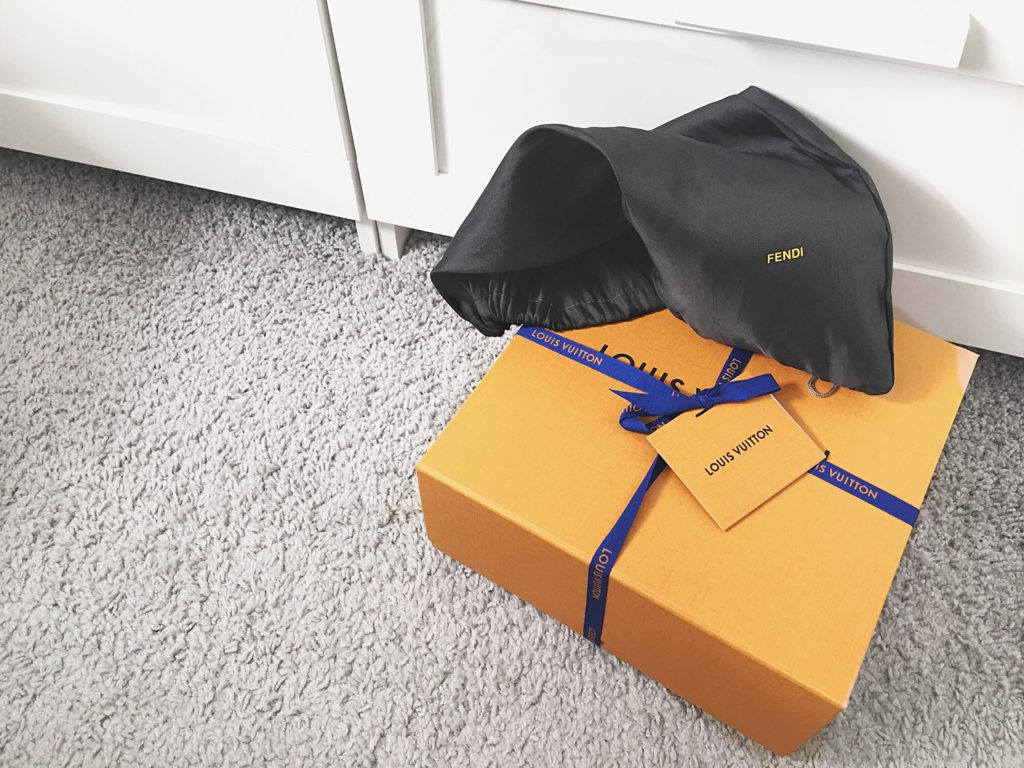 *Please note, I'm not promoting gambling to fund luxury purchases.*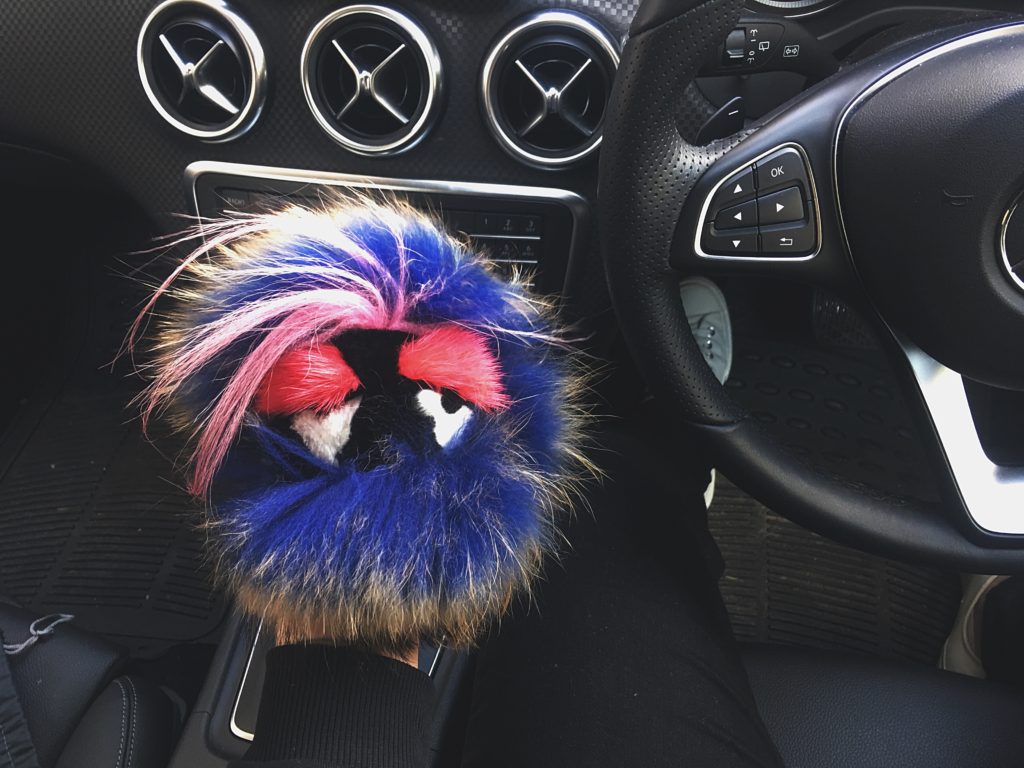 In 2018, the British summer was incredible, I think it's been the best we've had for years and I took full advantage of this. I attended numerous BBQ's and garden parties. But May is also the month that Louis Vuitton released their Pre Autumn/Winter line, the Upside Down Collection. When I saw the collection I ordered one item because I wasn't sure I'd like it at first. As soon as I saw the item in person, I fell in love and left with it.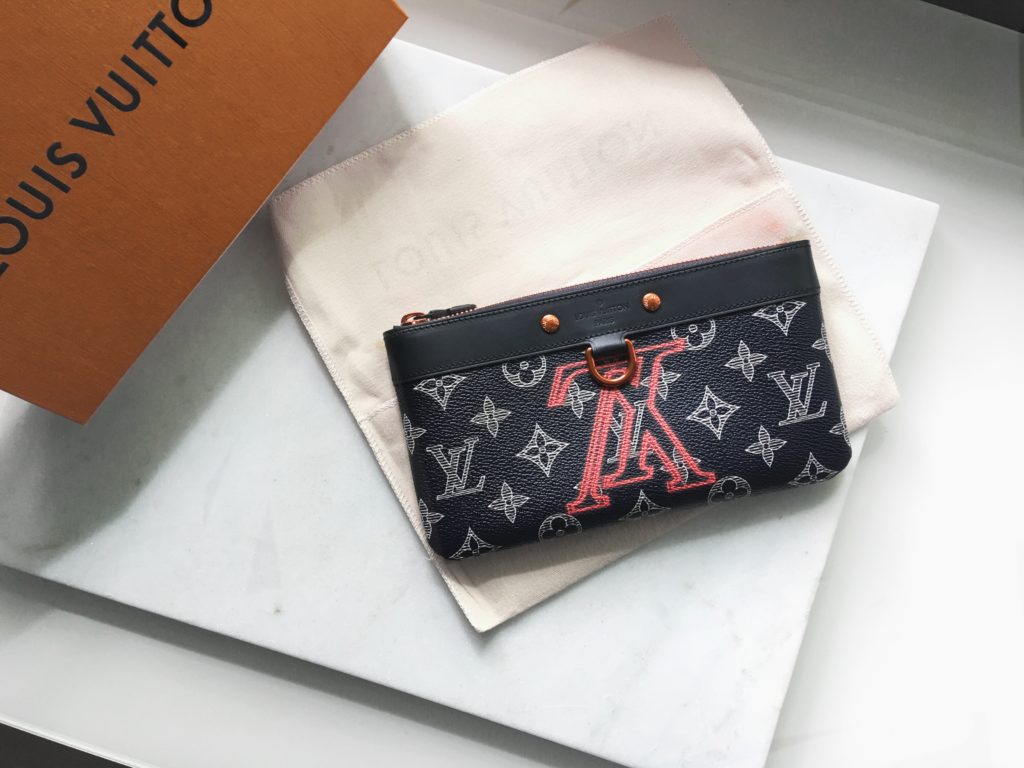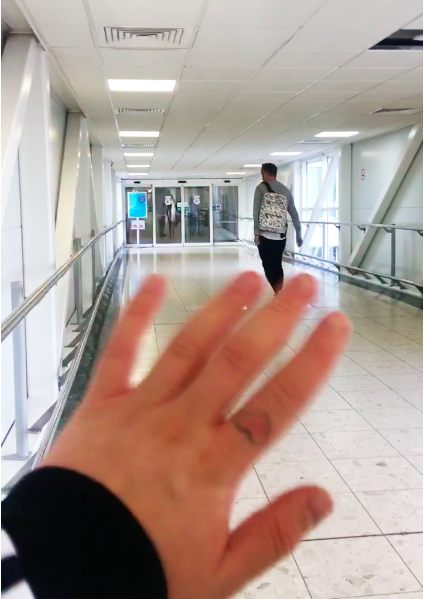 Half way through the year and the bathroom renovation that was started in April finally came to an end, 42 days after the entire bathroom was ripped out. This meant I was left to go to the gym, every single day, for 42 days, everyday! Even as I write this, I still can't believe I managed to keep my shit together during that time. June also marked Paul's brief return from Oz for 2 weeks. It was over before I knew it and I was back at the airport waving him away.
This was a quiet month for me. I managed to finish the living room renovation, which I tackled all by myself.
I also discovered Amazon Prime Video at the end of June, which was a welcomed find as throughout July, I started and finished Desperate Housewives. I have no idea how this happened, but it did.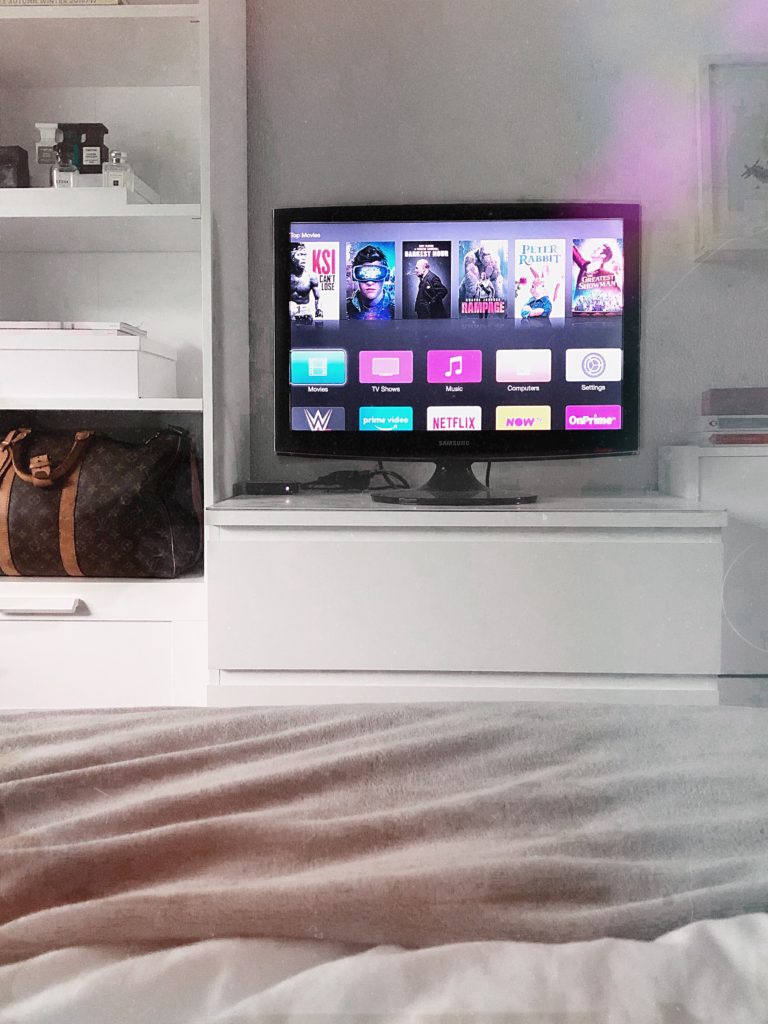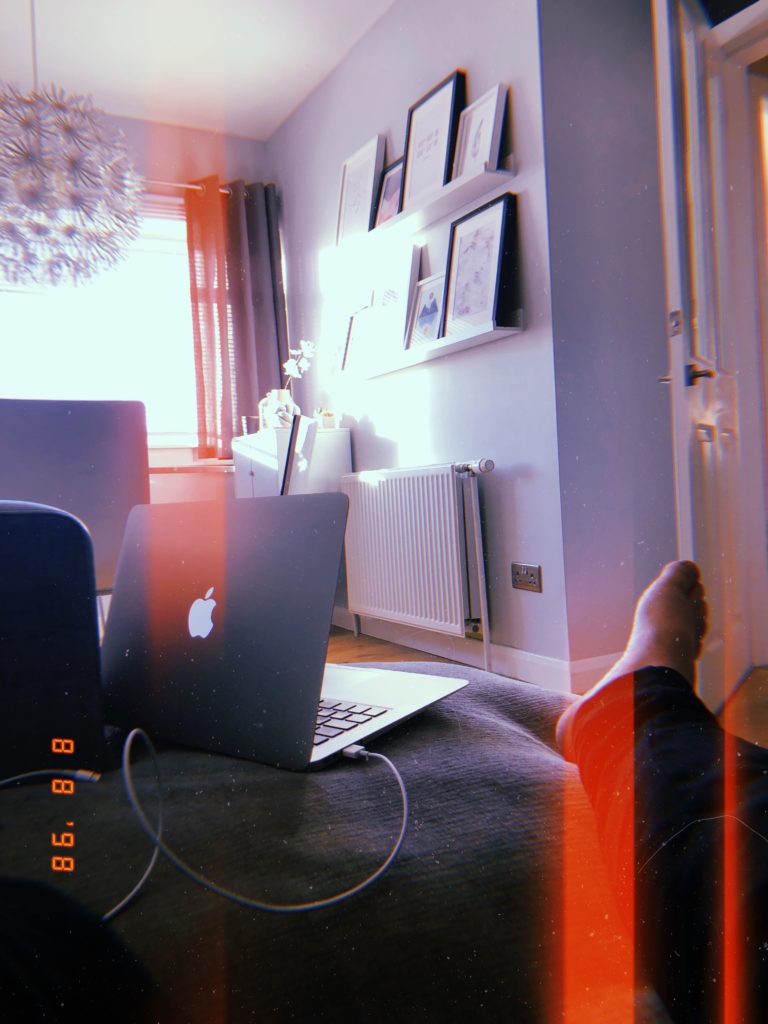 This is it, it's here, the month when me, the person who last year vowed never to go on holiday again travelled 9,456 miles to Australia.
Travelling for me has never come easy, I'm a very nervous flyer at the best of times, but the thought of being on 2 planes for 21 hours made me feel physically sick, I was terrified! This was a combination of the distance I'd be travelling but the thoughts of getting lost in Glasgow Airport or even worse, in Dubai airport (which I did).
But at last, 21 hours later I made it to Sydney. Those 10 days were the most incredible 10 days of my life and getting to share that experience with someone I love was even better.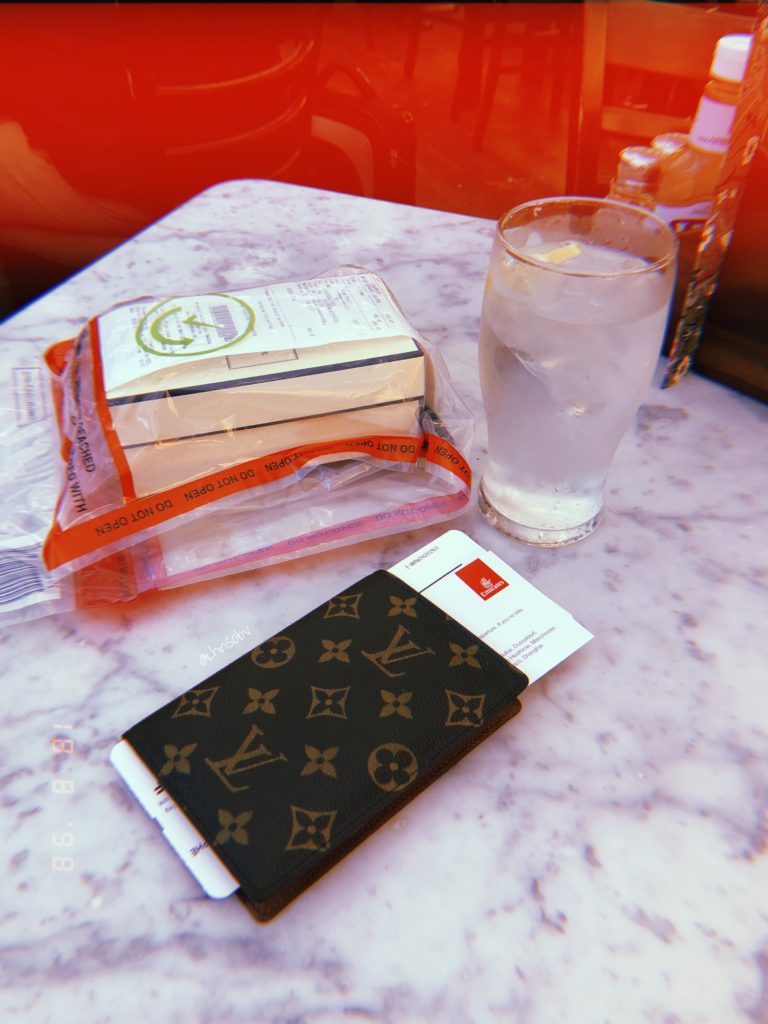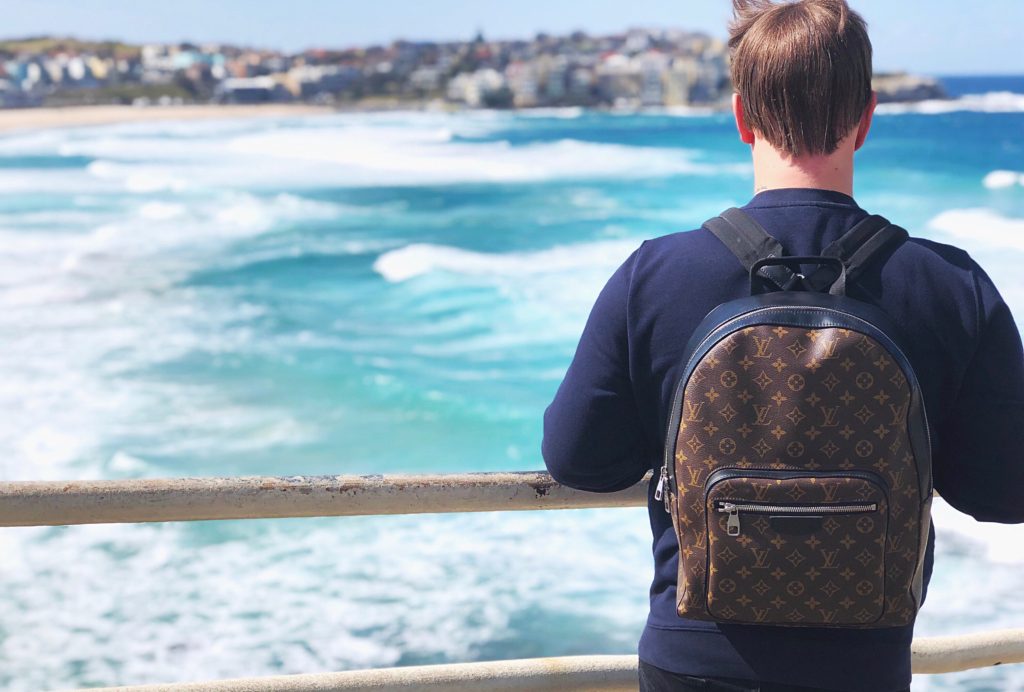 From Sydney, we then spend 4 days in Dubai on the way home, mainly to break up the jet lag before I went back to work, but also to experience that beautiful city even if it was for a few days. We stayed in Downtown Dubai, right next to the Burj and a 10 minute walk from the Mall in a hotel called the Sofitel. The hotel was stunning, as you could expect in Duabi, and it was in a great location. The one thing I was uncomfortable with in Dubai was the heat, I'm not much of a heat lover so being in such extreme conditions was difficult. 
During the trip, I was hunting for a few Items that I was unable to get my hands on over in the UK, mainly from the Louis Vuitton Autumn/Winter Titanium Line that had launched a few weeks earlier. Unfortunately, I wasn't able to find anything from the collection in either country. I didn't leave empty handed though, back in May I was in Manchester with the gorgeous Rachiella and her husband Ryan. While I was visiting, we were given a bunch of samples from Louis Vuittons new mens fragrance collection. One that stuck in my head was L'Immensite, with its subtle ginger and grapefruit and amber notes I knew this was the one for me. So my last day in Sydney, I visited the George Street Maison and managed to pick up a 100ml bottle and also have my initial engraved.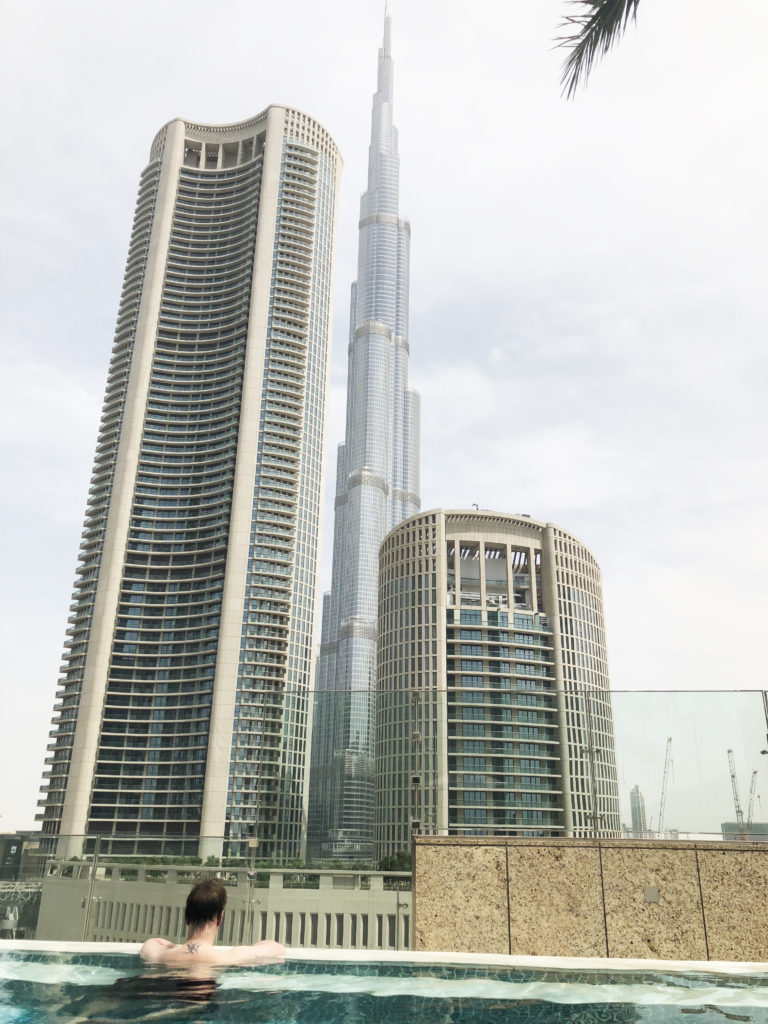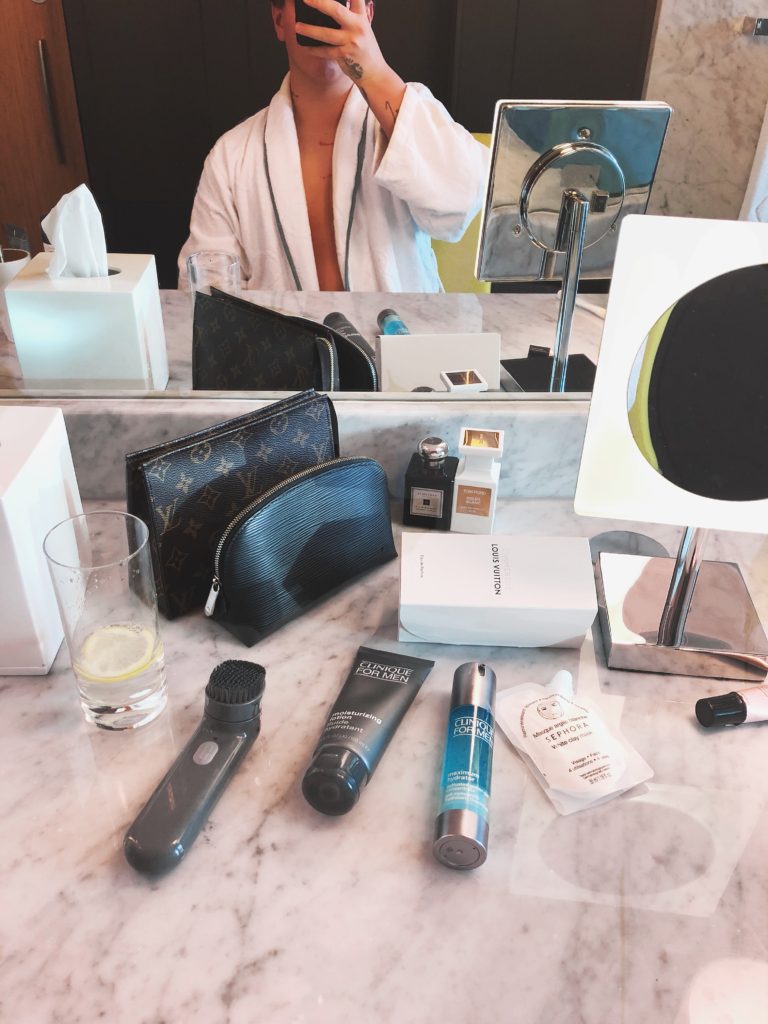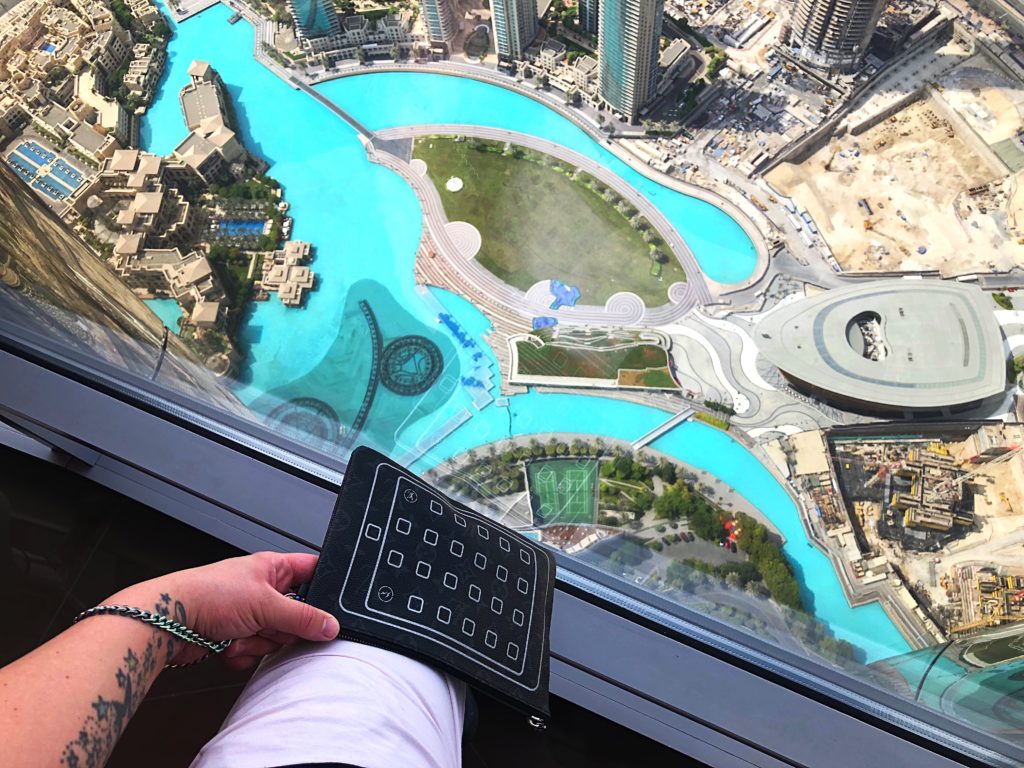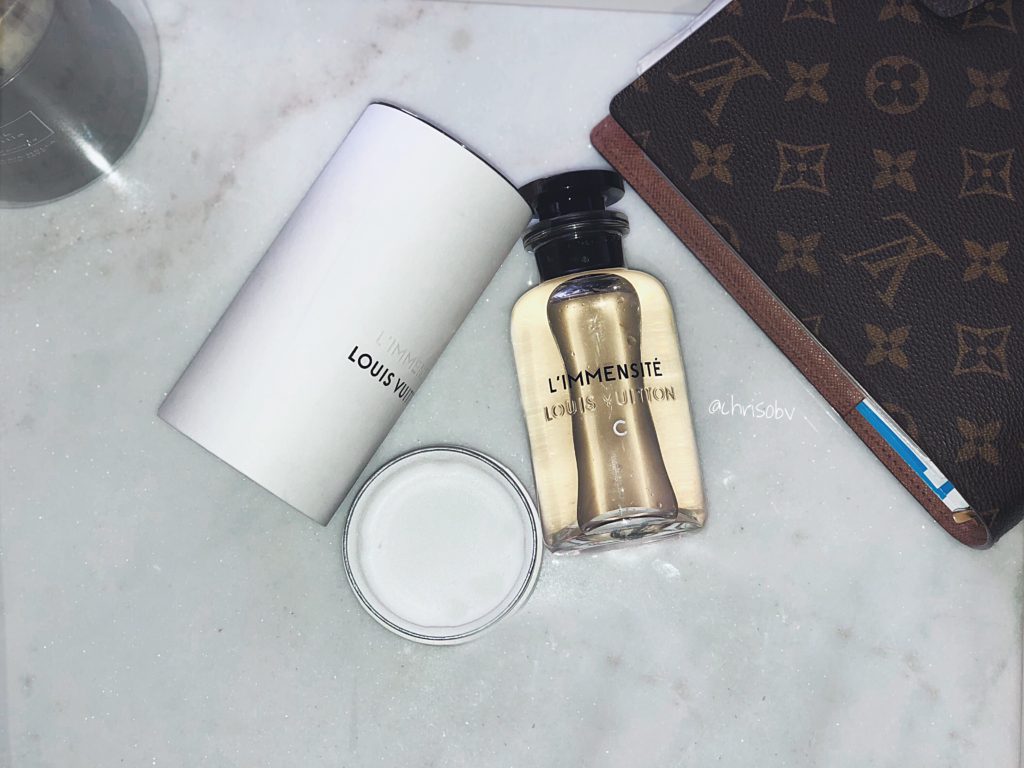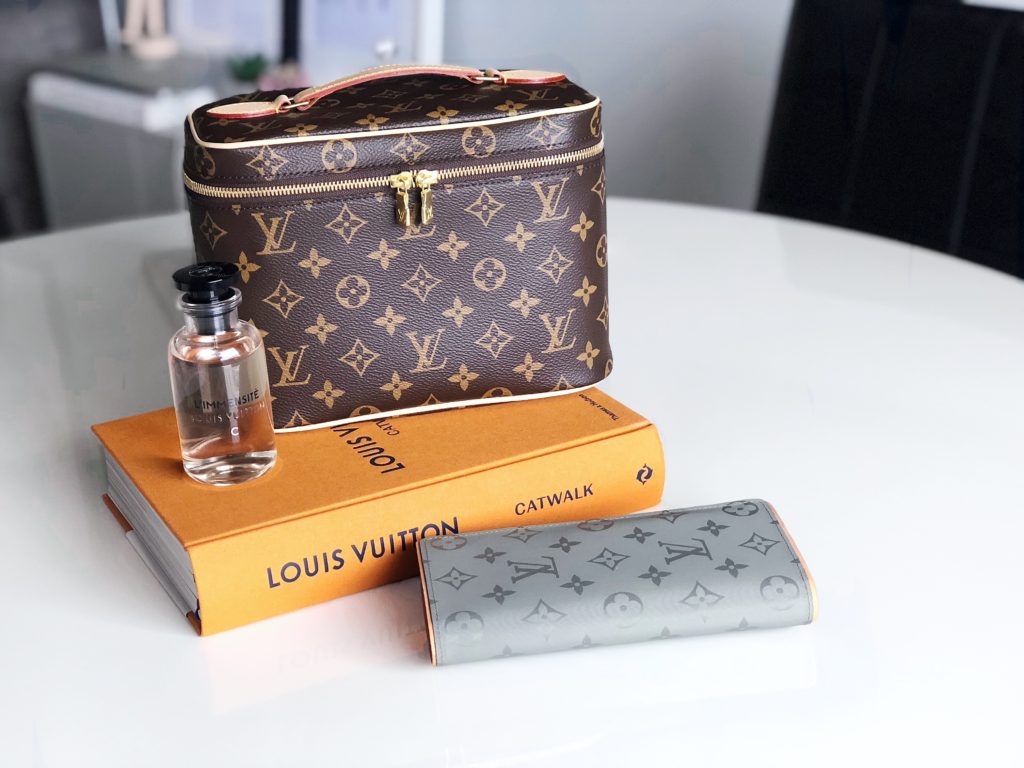 September is my birthday month and oh boy, did I celebrate. The first gift I bought myself was the Louis Vuitton catwalk book, this book has every runway look from 1998-2014. This is a visually stunning book and one for any collector.
The second item was a new wallet. While in Paris earlier in the year, I picked up a brazza wallet from Louis Vuitton but hesitated purchasing it as I wasn't sure if it would be too big for me to use. Through the months after that first visit, I realised I needed a bigger wallet, que the Louis Vuitton 
Brazza wallet in Monogram Titanium. I was so lucky to get my hands on this piece and I', so grateful I was able to, its stunning and my favourite wallet in my collection. The last item I purchased was the Nice BB. Another item I'd had my eye on for a few months and after asking the guys in my local store if they had one, they did. I managed to grab the last Nice BB the store had and I don't regret it at all.
This was a busy month for me and my printing business as I was asked by a great friend to design  and print the stationary for his entire wedding. I felt so honoured, I poured all my spare time and effort into coming up with a simplistic design that reflected him and his new wife. This was also the month I scored the bargain of 2018 with a Damier Graphite zippy coin purse I found online for £35! The video below will explain this in more detail, but I couldn't believe it.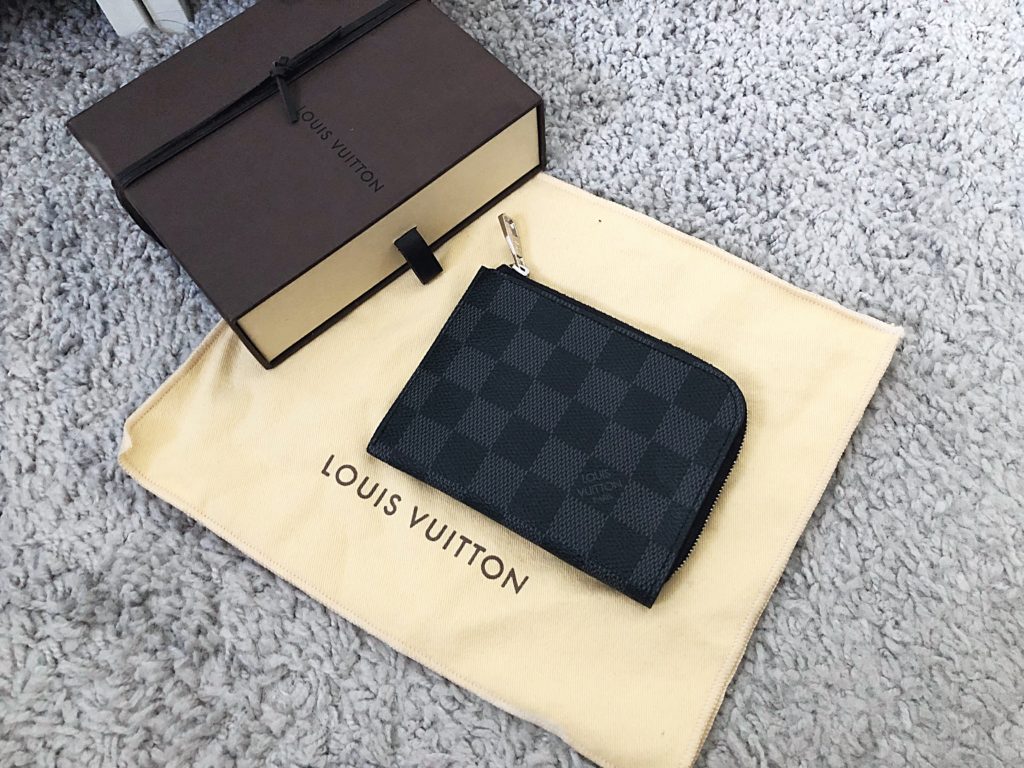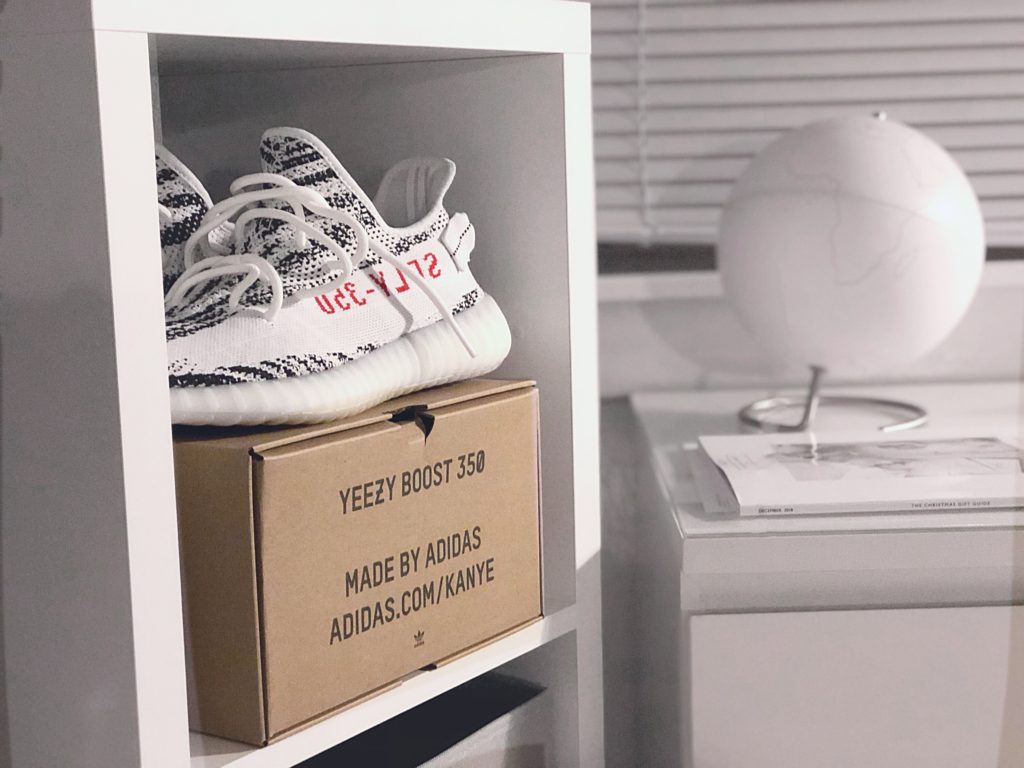 This was the month I became a member of the Yeezy club. I made a promise to myself at the start of the year to try and expand my shoe collection to include some high end shoes, the aim was a pair of white, spiked Louboutins but I couldn't get my hands on them. Even now. So when the Yeezy Zebra relaunched in November, I jumped at the chance to pick some up.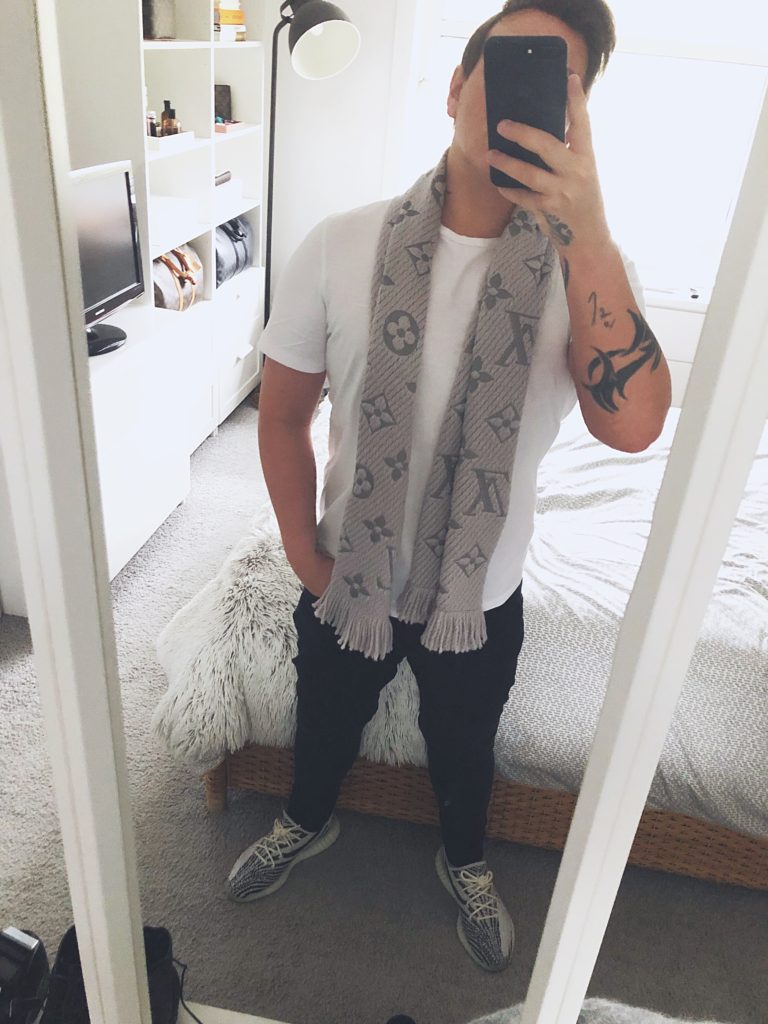 This was also the month I used a personal shopper for the first time and managed to pick up the Louis Vuitton Logomania Scarf in Grey. This scarf I purchased from Crepslocker who had it on SALE! Yes, SALE! I was a little worried about the authenticity but since receiving the scarf, I've had is authenticated twice to put my mind at rest and it's real. Also, possibly the warmest scarf EVER.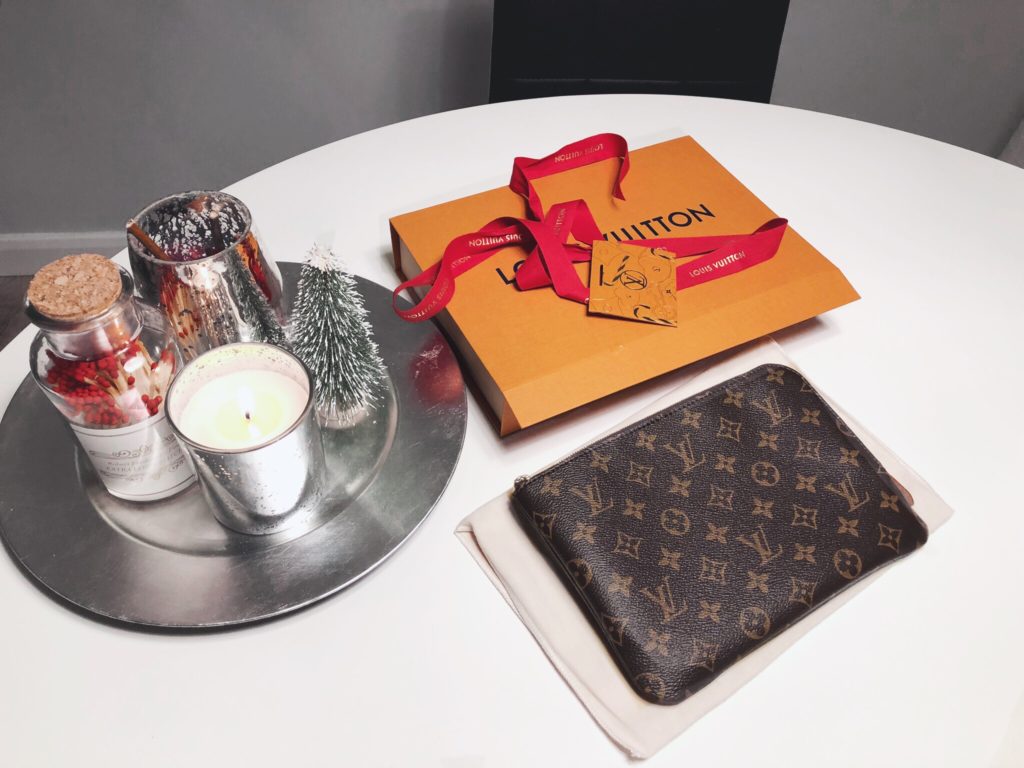 The month of endless social gatherings & eating too much. This year, I was invited to the Louis Vuitton Christmas Party and yet again, it was another great night. I met up with friends, drank some funny water and ate some weird appetisers. All while purchasing my new Etui Voyage Pouch. I popped into the store a few weeks before the party and tried to have the 'Daily Pouch' shipped in but they weren't able to do so before the party. The Etui pouch was next on the list of pouches I had my eye on so this worked out a great substitute.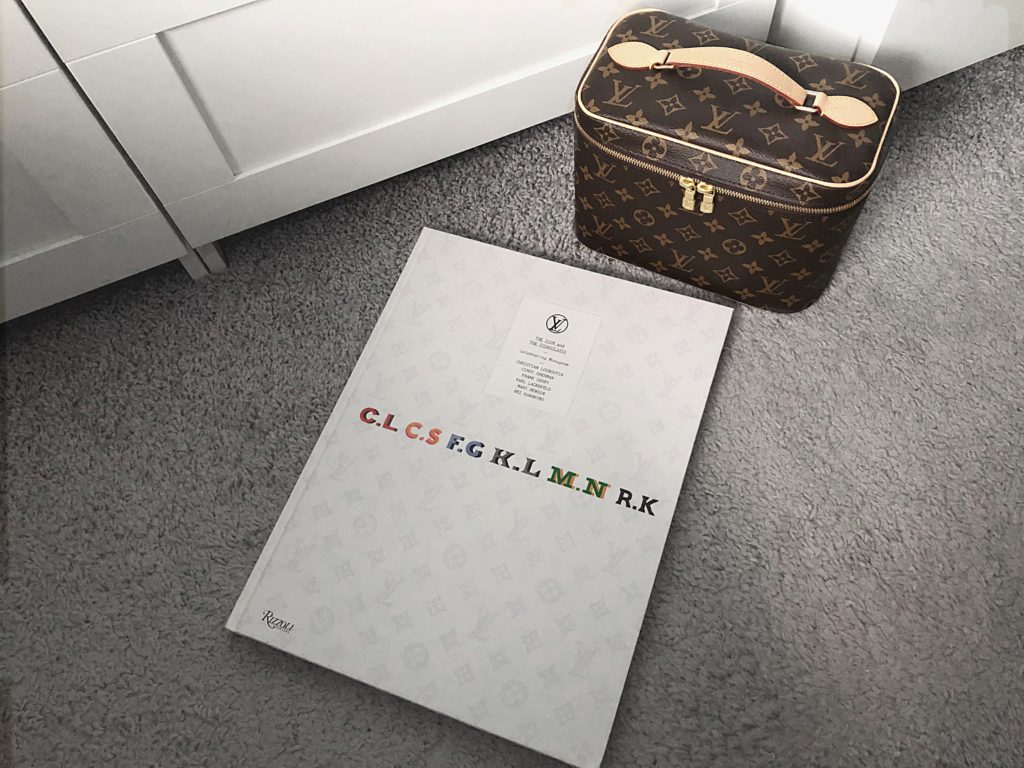 My last purchase of 2018 came in the form of a book form Louis Vuitton, sold by Amazon. This book was 'The Icon and the Iconoclasts: A Celebration of Monogram' from the Iconoclasts collaboration in 2015. The only reason I bought this was it was on sale when I looked at it on Christmas Day. It went from £40 to £15, so it was a no brainer. It features some gorgeous pictures from the collection and some lines of inspiration each creator had for their pieces.
As I sit here an type this up, It took me back to the moment each picture was taken and helped me relive the moment all over again. It really is amazing how one picture or video can take you back to that moment it was captured and the feelings that ran through your body, which is probably why it took me so long to finish. Oops. 
BUT the reason for this post was to look back at my year and happily close the door to 2018 as a success and open a new one into 2019, I can't wait to see what's to come.